Attractions & Activities
As the region stretches from Berry and Kangaroo Valley in the North, all the way to North Durras in the south, there's lots to cover. Many of the Shoalhaven's attractions share the region's rich history, such as the Lady Denman Heritage Complex in Huskisson, or the Fleet Air Arm Museum in Nowra. We're blessed with major national parks including the Booderee and Murramarang National Parks, as well as spectacular lookouts, art galleries, and a wildlife park in Nowra.
151 to 160 of 215 total results
Location : Mollymook, New South Wales
Learn to surf with Pam Burridge Surf Schools at either the Mollymook Surf School location or at Bendalong Surf School location. Also Stand up Paddle board lessons and hire available. Lessons are avai...
More info »
Location : Lake Conjola, New South Wales
A visit to the tranquil wetlands of Pattimores Lagoon, in Narrawallee Creek Nature Reserve, is a great way to soothe frazzled nerves and immerse yourself in natural beauty. Near Ulladulla, it's an i...
More info »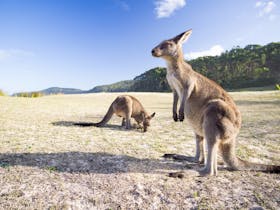 Location : Pebbly Beach, New South Wales
Pebbly Beach, located in the Murramarang Naional Park, is already known widely as the home of the surfing kangaroos (a myth arising from a photograph of a kangaroo in the low surf, probably chased the...
More info »
Location : Pebbly Beach, New South Wales
Pebbly Beach picnic area is tucked into the forest behind the beach and is famous for its abundant population of eastern grey kangaroos. It's a great spot to stop for a swim or for the aspiring fis...
More info »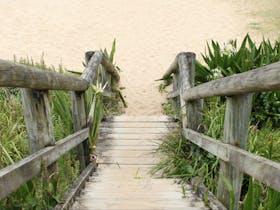 Location : East Lynne, New South Wales
If you're keen to get off the beaten track then Pebbly Beach to Snake Bay walking track is a great way to explore some spectacular unspoilt coastline. Meander along the remote beaches, lush rainforest...
More info »
Location : Jaspers Brush, New South Wales
Experience the nostalgia of travelling on a steam railway through a rural property at Penwood Miniature Railway. All engines are working replicas of the original trains. A fun day out for big and litt...
More info »
Location : Currarong, New South Wales
Drive through natural scrub and beautiful spring wildflowers to Point Perpendicular Lighthouse, and the spectacular escarpment at Jervis Bay. There is no access to the inside of the lighthouse, but th...
More info »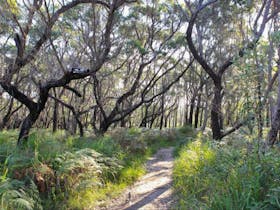 Location : Dolphin Point, New South Wales
Pot Holes walking track is a short walk with no signage through stunted heathland to unspoilt coastline.  With scenic views and picturesque places to picnic along the way, it makes for a great day tr...
More info »
Location : Berry, New South Wales
The Precinct Galleries hold contemporary Australian sculpture, objects, functional and contemporary art, with exhibitions changing regularly. Flying Pig Precinct offers familiar but different furnit...
More info »
Location : Kioloa, New South Wales
If the scenic coastal views don't take your breath away, the steep climb to the top of the mountain will. Pretty Beach to Durras Mountain walking track highlights the beautiful coastal forests of Mu...
More info »