Artists & Local Makers
Many residents of the Shoalhaven have taken inspiration from their surrounds and become very talented artists and artisans in a variety of fields.
Here you'll find museums and galleries housing unique works in everything from fine pottery, vibrant oil paintings and grand sculptures, to delightful lead lighting, knitwear and community arts and crafts. You can follow the trails of artist's studios and see potters in residence, or wander and explore our many country villages such as the delightful Berry and Milton.
1 to 10 of 15 total results
Location : Huskisson, New South Wales
Pebbles and Pods - art and craft items celebrating the natural environment of Jervis Bay in all its little details.
Delicate, petite watercolour paintings of local bird species, native plant...
More info »
Location : Shoalhaven Heads, New South Wales
Bishops Bigfoot Adventures operates at Coolangatta Estate near Shoalhaven Heads. The original Bigfoot started at Coolangatta in the early 1980s. Today's Bigfoot is a huge four wheel drive open sided ...
More info »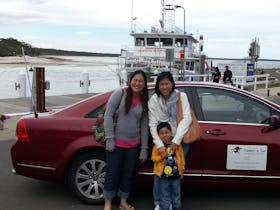 Location : Vincentia, New South Wales
Boomers on Tour is a tour for small groups where everything is arranged for you. Shoalhaven on South Coast NSW is Australia's best kept secret. As you drive further south to Jervis Bay you will see...
More info »
Location : West Cambewarra, New South Wales
Bundanon is the home of the late Arthur Boyd. It was donated to the people of Australia in 1993 by the artist, who believed "you can't own a landscape" and wanted to share the place that inspired him ...
More info »
Location : West Cambewarra, New South Wales
Bundanon Trust (including the Bundanon Homestead and Riversdale) is located on 1,100 hectares of pristine bush land overlooking the Shoalhaven River, near Nowra in New South Wales. It was a gift to th...
More info »
Location : Ulladulla, New South Wales
History tours of Milton Ulladulla can be arranged for coaches and also walking tours. There are several different tours available. These include Step Back in Time - coach tours of Milton and Ulladull...
More info »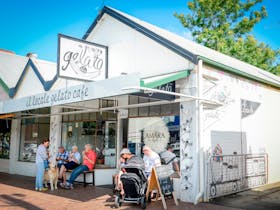 Location : Berry, New South Wales
Il Locale Gelato in Berry is home to perhaps the best coffee in Berry, made from locally grown beans. It is also home to the best gelato produced nearby at The Pines Dairy. Choose from a wide range o...
More info »
Location : Burrill Lake, New South Wales
Experience two days with Noel Butler and Trish Roberts at Jamanee Gunya on a Cultural Experience Course. Learn about the culture of the Budawang people - the local Aboriginal people of the Milton area...
More info »
Location : Bendalong, New South Wales
Monument Beach ride from Bendalong is one of many cycling routes weaving through Conjola National Park. This route takes you along unsealed roads through turpentine and blackbutt forest to Monument Be...
More info »
Location : Bawley Point, New South Wales
Give yourself a couple of hours to immerse yourself in the surroundings on the 2km Murramarang Aboriginal Area walking track along the coastline. Interpretive signs offer insight into some of the most...
More info »