Jervis Bay
The star attractions of Jervis Bay are the humpback whales, their acrobatic antics an awe-inspiring thrill to watch. They make their passage up the east coast to mate in the warm tropical waters of Queensland, and Jervis Bay is a regular haunt on their journey. Whale-watching tours are offered to see these great mammals during June and July and again in the September to November season.
The history of the area revolves around the bay and its ship-building activities, the local timber industry supporting the building of sailing vessels and steamers. The Lady Denman Heritage Complex in Huskisson has a variety of permanent and travelling exhibitions, with the ferry Lady Denman housed in the museum being the showcase and pride of the complex. The museum concentrates on the history of Jervis Bay and district, including early exploration, the timber industry, Aboriginal history, early settlement, lighthouse history, shipwrecks, coastal shipping, whaling history and Naval base history.
With sheltered coves providing safe mooring and great fishing opportunities, the Jervis Bay area is a favourite for avid sailors. All of the townships in the area are positioned on the coast, taking great advantage of the fantastic coastal and basin views and sun, surf and sea atmosphere.
There are good holiday services for the holiday maker and lots of accommodation from top-of-the-range guesthouses and bed and breakfasts to motels, tourist parks, holiday cottages and eco-camping.
DRIVE
What to Do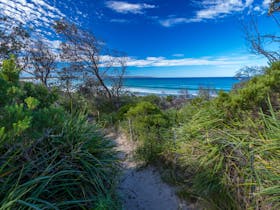 Location : Jervis Bay, New South Wales
Bherwerre beach is a long beach with a lot of sand perfect for spreading out or taking a long walk. It is one of the quieter beaches in the Shoalhaven so is a great place to go to escape the crowds. T...
More info »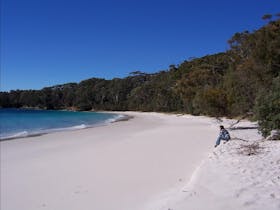 Location : Jervis Bay, New South Wales
Booderee National Park is a place of outstanding natural beauty located at Jervis Bay on the NSW South Coast. Booderee is an Aboriginal word from the Dhurga language meaning 'bay of plenty' or 'plent...
More info »
Location : Jervis Bay, New South Wales
Booderee Botanic Gardens are the only Aboriginal-owned botanic gardens in Australia. Here visitors can learn about bush tucker and medicinal uses of plants and the long association that Koori people h...
More info »
Where to Stay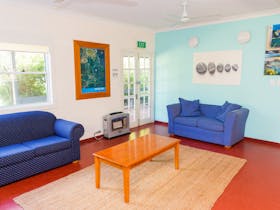 Location : Jervis Bay, New South Wales
With its magnificent secluded coastline, clean water, clear air and unhurried pace, a visit to Bay of Plenty Lodges, reached after a 13 kilometre drive through the rainforests of Booderee National Par...
More info »
Location : Jervis Bay, New South Wales
BOOK NOW
The Beachfront House has a premium corner location overlooking Jervis Bay's Collingwood Beach (one of the whitest sand beaches in the world just 50 metres away!) and the calm swimming location at Mo...
More info »
Location : Jervis Bay, New South Wales
The Bristol Point camping area is located in beautiful Booderee National Park at Jervis Bay. Booderee offers a wide range of activities in a pristine natural setting, including swimming, fishing and s...
More info »