Berry
Berry is the most northern town of the Shoalhaven region. This friendly, historic town is known as the first proper country town south of Sydney. Nestled beneath the rolling hills, the township has a character, warmth and charm retained from its early days.
Berry offers visitors many activities and attractions, including a mouth-watering array of fabulous gourmet restaurants to casual cafes, contemporary art galleries, unique homewares shops and boutiques, as well as well appointed guest houses, B&Bs, hotel and motel accommodation.
There are various buildings with National Trust classification, and the market days on the first Sunday of the month bring people from as far afield as Sydney and Canberra.
Berry is a town of many passions which are reflected in the products and services offered by its shop keepers. Here you'll find everything from Aboriginal art to texts on Buddhism, hand-made chocolates to rubber stamps, and quilting classes to antique woodworking tools, and much, much more.
A favourite activity in Berry is to "do breakfast"on a Sunday morning. This may be a leisurely and relaxing affair with either a healthy meal or, for those who wish to throw caution to the wind, a hearty serving of bacon and eggs or delicious croissants and a variety of jams. A choice of gourmet coffees and teas, coupled with the Sunday papers, is a fine conclusion to your break.
DRIVE
What to Do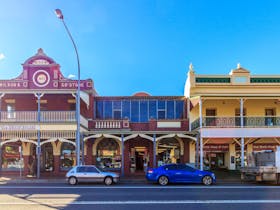 Location : Berry, New South Wales
With its historic buildings and leafy surrounds, Berry is a delightful village to visit year-round. In the past few years, Berry has become a refuge for Sydneysiders seeking fresher air and a less hec...
More info »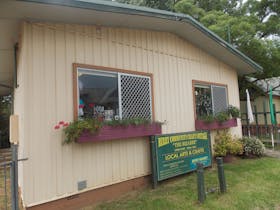 Location : Berry, New South Wales
The Berry Community and Activity Centre have a wonderful display of handmade crafts in wood, wool and material all made locally. Saleable products of jams, relishes and pickles made from organically ...
More info »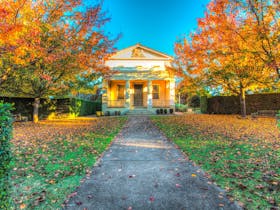 Location : Berry, New South Wales
The Berry Courthouse was designed by James Barnet in the Greek Revival style and built in 1890 and 1891 at a cost of 1,658 pounds, 10 shillings and 7 pence. The Berry Court House appears to have been ...
More info »
Where to Stay
Location : Berry, New South Wales
'Aberfoyle' meaning a confluence of water. 'Confluence' meaning the meeting of two or more bodies of water. While there is no water surrounding this property, your family and friends will find 'Aberf...
More info »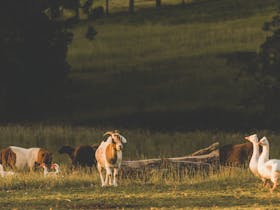 Location : Berry, New South Wales
Back 2 Earth is a five acre organic farm stay, health retreat, offering a float tank experience, massage therapy, psychotherapy and RAW vegan cuisine. They have almost 80 hand-raised animals, many of ...
More info »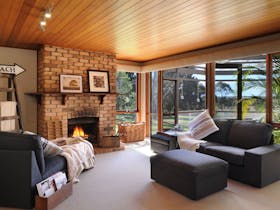 Location : Berry, New South Wales
Rural bliss only five minutes from the beach - and with your own pool. Lie on the beach in the morning, then by the pool in the afternoon - could relaxing get any better? This spacious home, situated...
More info »
What's On